NO MORE GIMMICKS, RM1500 NOW !
Friday, 09 December 2011
JERIT would like to express its disappointment over the statement made by the Human Resource Minister during an interview session with FMT - Minimum wage to be more than RM740, Teoh El Sen | December 7, 2011. According to the Minister the National Wage Advisory Council (NWAC) is at its final stage of deliberating the quantum of the wage which could range between RM740 to RM1100. The Minister also said the NWAC is currently studying the rate and coverage of minimum wage according to sector, job type, area and territory.
JERIT, after looking at the statement by the Minister, is worried that the minimum wage will be fixed slightly above poverty line and only few sectors will get the maximum of RM1100. JERIT and the trade unions have been demanding for RM1500 due to the increase in cost of living and other factors. Any wage below that quantum is not going to ease the burden of the workers who have been contributing to the economy of the nation. With the annoucement, JERIT forsee the workers in rural areas, certain sectors in states like Kedah or Perlis will earn lesser.
The Minister may have forgotten that these workers too have school going children, have to pay the same price for basic necessities like rice, chicken, sugar, petrol, school fee and etc. This is why a minimum wage of RM1500 for all workers without any form of discrimination is crucial.
The Minister further said that the World Bank and other studies has cautioned that any figure above RM1,200 could have some challenging impacts on our economy like inflation. If this is true, then why the government has decided a pay hike between 7-13% for civil servants from January 2012. This hike is also meant for high-ranking officers in the civil service. While JERIT welcomes the pay hike for low waged civil servants, there should not be double standard because the workers in the private sector are more vulnerable and earning much lower and they are the majority forming almost 11 million labour force in the country.
JERIT believes that the Ministry of Human Resorce is not sincere in providing a decent living minimum wage to the workers. It is expected that the government is going to announce the minimum wage by the end of year just as a poitical gimmick and its propaganda for the up-coming general election. The previous wage council has proven that it has no bite and can never enforce the employers to pay minimum wage like what happened to the security guards. History is going to repeat itself.
If the BN Government is really sincere, then it should listen to the cries of the majority workers (and not World Bank) and use its political will to implement minimum wage of RM1500.
Baca Lagi...
URGENT APPEAL : RESTORE WATER TO EX-ESTATE WORKERS!
Friday, 09 December 2011
URGENT APPEAL
RESTORE WATER TO EX-ESTATE WORKERS !
G – TEAM HAS NO IMMUNITY TO CUT WATER SUPPLY TO ESTATE WORKERS
Since 21st. November 2011, water supply to fourteen ex-workers in Ladang Tumbuk, Tanjung Sepat, Selangor has been disconnected after G-Team refused to settle outstanding water bill to workers of Ladang Tumbuk.
G-Team took over from Maika Holdings which belonged to MIC. Then in 2006, Maiko Holdings signed an agreement with the National Union of Plantation Workers (NUPW) where they promised to build low cost houses and that workers will be allowed to stay in their quarters until the houses are built. The houses are to be built in 2008 and should have been completed by now. Today the promise of the house has yet to be built while G-Team plans to sell the land piece by piece for profits.
Then in 2010, Maika Holdings was taken over by G-Team which belongs to billionaire Tan Sri Ganalingam. G-Team then started to force the Ladang Tumbuk Estate workers to take RM 25,000 each but refuse to built houses. Workers were threatened to take the money and they have lodged police report on this. Now currently 12 workers who refused to take the money are facing a new eviction threat when G-Team by disconnected the water supply in order to force the workers to leave the estate.
The Human Resource Department tried to ask G-Team to reconnect the water but they have refused to do so and instead want the workers to remove caveats that they have put on the land. It is illegal to disconnect water supply to ex-workers when the issue of housing is yet to be settled. The current practice is the plantation owners have to supply basic amenities until the housing issues are resolved. This has been the practice till now and until the issue of relocation is settled , the status quo has to be maintained. Here it seems that G-Team has an immunity not to reconnect water and the Human Resource Department seems unable to force them to do so. It looks like G-Team seems to have special immunity to cut water supply. If this is allowed, then G-Team will the first plantation owner given the privilege to cut water supply when housing issues of ex-plantation workers are not solved.
The G-Team representatives at the meeting held in Klang Labour Office yesterday (6-12-2011) said that they can settle the money but refuse to do so. The representatives also warned and threatened estate workers who refuse to accept his terms including members of JERIT who attended the meeting. The gangster style attitude has made negotiation difficult and basic rights denied.
The former estate workers who toiled for Maika Hoildings now have to live without water supply after they were earlier cheated when houses promised were not built. For Ganalingam, it won't take him much to pay the outstanding bills but will he do so or will he punish the workers by not supplying water.
By JERIT Secretariat
Urgent action needed:

Please write protest letters to the Minister of Human Resource, Labour Department and MIC President to express your objection on the denial of water supply in Ladang Tumbuk Please also demand tthem to immediately reconnect water supply to the Ladang Tumbuk resident as it their basic right. Please send us a cc copy.

Please call and send your protest letters to:
Last Updated ( Friday, 09 December 2011 )
Baca Lagi...
JOM BANTAH PINDAAN AKTA KERJA 1955
Thursday, 08 December 2011
15 Disember, 10.30pagi
PARLIMEN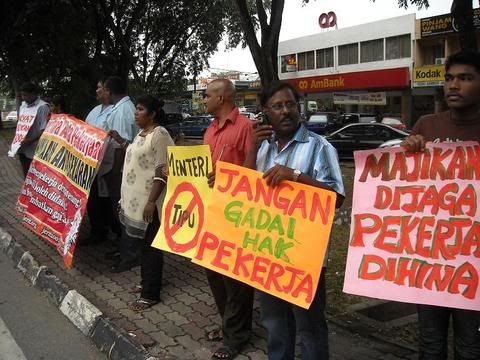 Pindaan
ini adalah antara yang
terburuk
dalam 40 tahun sejarah.
KINI pindaan ini hanya diluluskan di Dewan Rakyat.Kita masih ada bacaan di Dewan Negara yang bersidang pada bulan Disember ini.Oleh itu..mari pertahankan HAK KITA!!!
Maklumat lanjut hubungi 0196693412
Last Updated ( Thursday, 08 December 2011 )
Tolak Pindaan dalam Akta Kerja 1955:Perjumpaan dengan Senator-senator di Dewan Negara
Thursday, 08 December 2011
Khamis 07/12/2011 -
JERIT bersama dengan kumpulan lain seperti NUBE, AWAM dan Sahabat Wanita telah mengadakan perjumpaan dengan senator-senator di dewan negara. Tujuannya adalah untuk menjelaskan betapa buruknya pindaan dalam Akta Kerja 1955 yang diluluskan di Dewan Rakyat dan menyarankan kepada semua Senator di Dewan Negara untuk menolak akta ini bila dibentang dalam sesi dewan negara ini.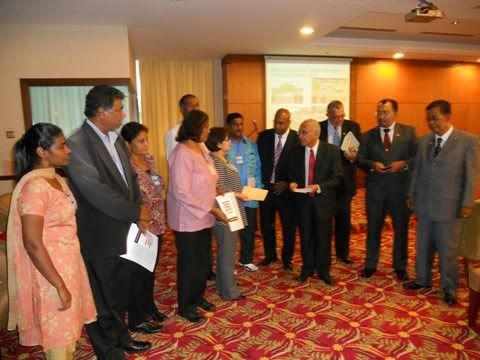 Jika ia diteruskan di dewan negara, maka pekerja akan turun ke jalan raya untuk membantah tindakan kerajaan yang degil tidak mahu mendengar suara pekerja di Malaysia.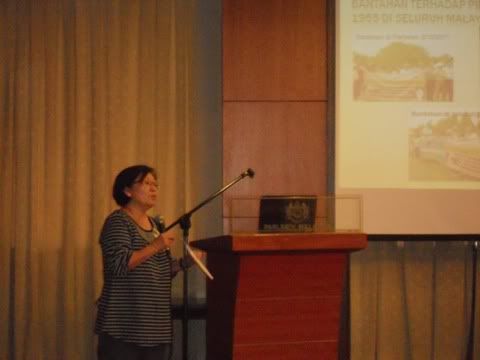 Last Updated ( Thursday, 08 December 2011 )
Forum Kesedaran FTA @ Parallel People's Forum
Wednesday, 07 December 2011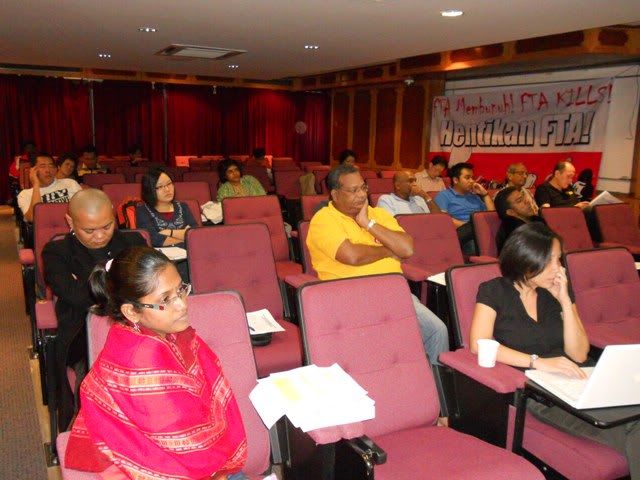 Hari ini, satu forum mengenai kesan-kesan FTA ke atas rakyat Malaysia telah diadakan di Dewan Sivik MPPJ. Seramai 30 orang telah hadir ke forum ini. Penceramah-penceramah yang berpengalaman seperti Saudari Sanya, Saudari Brucu, Sauara Charles Santiaga, Saudara Edward telah memberi penerangan bagaimana FTA akan memberi kesan ke atas pekerjaan, kesihatan, pertanian dan sebagainya. Malah, para penceramah juga telah memaklumkan bahawa Malaysia boleh disaman di Mahkamah Antarabangasa jika berlaku pertikaian.
FTA MEMBUNUH! Pengedaran Risalah FTA di 10 hospital
Wednesday, 07 December 2011
Hari ini Gabungan membantah FTA telah mengedar risalah mengenai kesan-kesan FTA ke atas kesihatan rakyat Malaysia. Pengedaran ini telah dilakukan di 10 buah hospital di Negeri Johor, Kedah, Pulau Pinang, Selangor, Pahang dan Kuala Lumpur.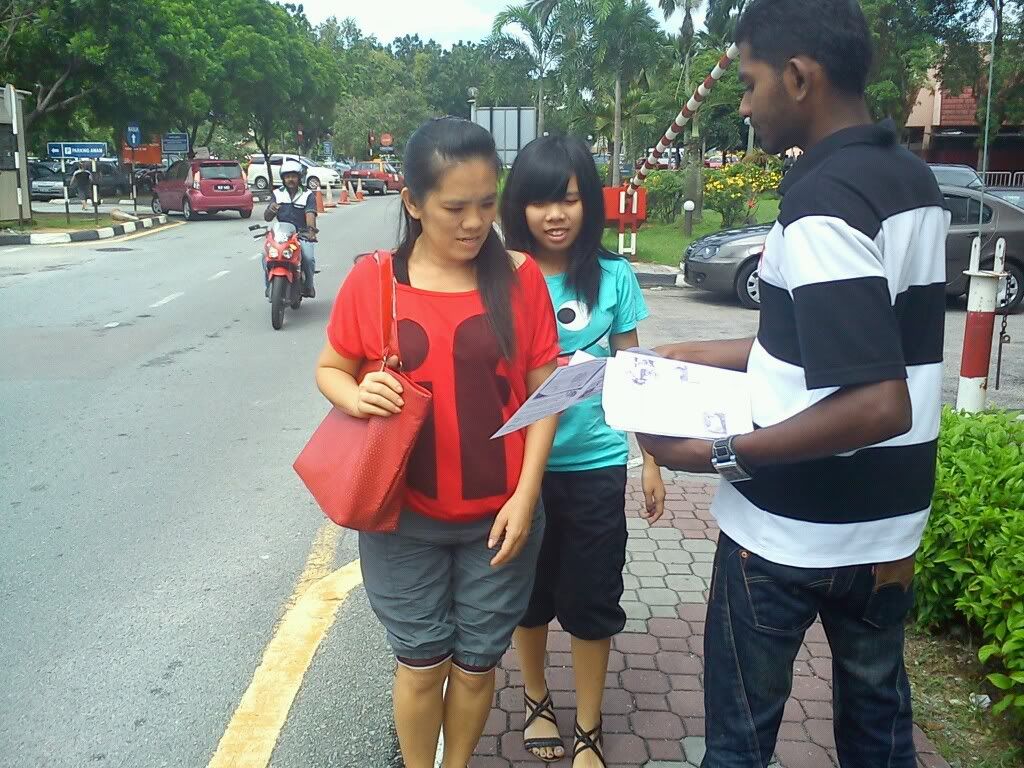 Malaysia pada masa kini sedang menjalankan rundingan Perjanjian Perdagangan Bebas (FTA) dengan Amerika Syarikat melalui Perjanjian Kerjasama Trans Pasifik (TPPA). Perjanjian FTA mempunyai klausa-klausa yang akan memberikan manfaat kepada syarikat –syarikat farmasi negara maju seperti Amerika dan Eropah dimana hakmilik paten sesebuah ubat akan dilanjutkan . Maka ubat –ubat generik yang banyak dihasilkan oleh kilang-kilang farmasi tempatan akan dihalang.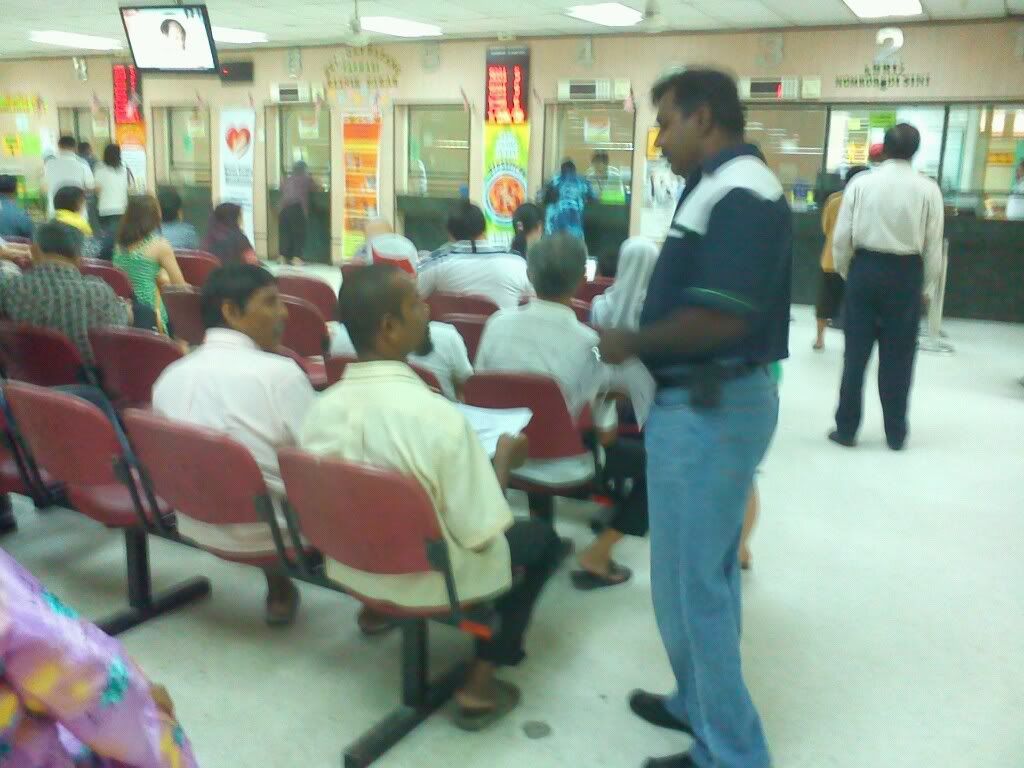 Rakyat biasa akan hilang peluang memperolehi ubat dengan harga yang rendah . Harga ubat akan melambung naik! Bagi memberi kesedaran kepada rakyat, satu risalah telah dihasilkan dan diedarkan di hospital-hospital.
Last Updated ( Wednesday, 07 December 2011 )
Baca Lagi...
<< Start
< Previous
1
2
3
4
5
6
7
8
9
10
Next >
End >>