Mengapa Kesatuan Sekerja di Malaysia hanya 7%? Tindakan Maybank adalah antara puncanya!
Saturday, 25 February 2012
Kini, di Malaysia hanya lebih kurang 7% pekerja sahaja yang menyertai Kesatuan Sekerja. Jumlahi ini adalah sangat rendah berbanding 11 juta tenaga kerja di Negara ini. Salah satu faktor utama adalah tindakan majikan yang membenci kesatuan dan melayan mereka seperti musuh. Ramai pemimpin kesatuan menjadi mangsa akibat tindakan majikan yang mencari pelbagai alasan untuk menyukarkan operasi sesebuah kesatuan.
Begitulah kisahnya dengan tindakan Maybank yang memecat pemimpin kesatuan yang hanya melaksanakan hak bersuara mereka di Geneva. Maybank telah memecat dua pemimpin Kesatuan Kebangsaan Pekerja-pekerja Bank (NUBE) iaitu Abdul Jamil Jalaludeen (Naib Presiden) serta Chen Ka Faat (Bendahari Kehormat).
Apakah salahnya memegang kain rentang untuk menyoal tindakan bank yang tidak berlaku adil ke atas pekerjanya? Bukankah tujuan asas kesatuan adalah untuk melindungi hak pekerja dan ianya mempunyai hak untuk mengutarakan ketidakpuasan terhadap majikan. Ini adalah semangat di sebalik menjaga keharmonian perindustrian.
Nampaknya Maybank yang merupakan satu bank yang terbesar di Malaysia tidak memahami pertalian asas ini apabila ia cuba menunjukkan kuasanya dengan memecat dua pemimpin kesatuan.
Tindakan seperti ini akan berterusan selagi tiada undang-undang yang kukuh melindungi kesatuan sekerja. Undang-undang kesatuan sekerja yang sedia ada amat menyukarkan penubuhan sesebuah kesatuan dan sekiranya ditubuhkan ianya sukar untuk beroperasi. Pihak Kerajaan pula hanya berminat untuk meminda undang-undang yang berpihak kepada majikan dan terus merampas hak pekerja. Selagi ada undang-undang seperti ini, majikan seperti Maybank akan terus bermaharajalela.
JERIT akan terus memberikan sokongan solidariti kepada dua pemimpin pekerja yang dibuang kerja. Dan berharap semua warga pekerja bersatu menentang penindasan ini. JERIT juga menggesa pihak Kerajaan supaya jangan menutup mata tetapi mengambil tindakan untuk melindungi pemimpin kesatuan ini.
Hentikan penindasan terhadap pekerja!
Hidup perjuangan Hidup Pekerja
Last Updated ( Saturday, 25 February 2012 )
Baca Lagi...
Bantah Sampai Pindah! Himpunan Rakyat Bantah LYNAS!
Wednesday, 22 February 2012
Last Updated ( Wednesday, 22 February 2012 )
Baca Lagi...
MELINDUNGI PEKERJA DAN HAK KESATUAN, MAHKAMAH RAYUAN GAGAL!
Tuesday, 21 February 2012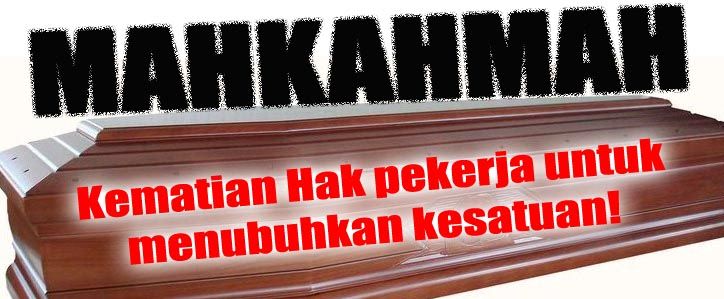 Jaringan Rakyat Tertindas (JERIT) hari ini dukacita dengan keputusan mahkamah rayuan di Putrajaya oleh hakim-hakim yang bijaksana iaitu Hakim Abdul Wahab Patail, Hakim Anantham Kasinathan dan Hakim Linton Albert yang berpihak kepada majikan Guppy Plastik Sdn Bhd.
Kes ini yang berlarutan selama 14 tahun, di mana 3 orang pekerja ini yang menjadi perintis kepada penubuhan kesatuan telah dibuang kerja sebaik sejurus mereka menubuhkan kesatuan sekerja pada 27 April 1998. Pekerja membawa kes ini ke Mahkamah Perusahaan namun keputusan memihak kepada majikan. Selepas itu, pekerja, mencabar keputusan Mahkamah Perusahaan di Mahkamah Tinggi dan menang di mahkamah tinggi pada 14 Disember 2009. Namun majikan telah membuat rayuan di Mahkamah Rayuan dan kes didengar di mahkamah rayuan pada 21hb Februari, 2012 dimana Hakim Mahkamah Rayuan gagal melihat pemangsaan pekerja-pekerja kesatuan malah menganggap pembuangan kerja ini betul kerana ahli-ahli utama kesatuan Guppy plastik melakukan aktiviti-aktiviti kesatuan di premis kilang.
Di Malaysia, walaupun undang-undang membenarkan pekerja menubuhkan Kesatuan namun, pihak majikan terus menerus menekan dan menghukum pekerja-pekerja yang memperjuangakan hak mereka melalui kesatuan. Apa gunanya undang-undang dan mahkamah jika pekerja tidak dilindungi dan majikan terus mendiskriminasi para pekerja.
Keputusan Mahkamah Rayuan ini sekali lagi membuktikan sistem dan institusi di Malaysia tidak memberikan perlindungan yang sewajarnya kepada para pekerja. Ini adalah antara usaha-usaha yang berterusan untuk menghancurkan Kesatuan Sekerja di Malaysia yang terus menjunam ke 6.9% daripada jumlah pekerja di Malaysia.
Apa yang berlaku kepada 3 orang ahli tertinggi Kesatuan Sekerja Guppy Plastic ini adalah penganiyaaiaan. Apa yang majikan Guppy Plastik melakukan adalah pemangsaan semata-mata. Kegagalan melihat isu pemangsaan ini adalah satu kegagalan sistem kehakiman. Pemangsaan terhadap ahli kesatuan adalah pemangsaan terhadap keseluruhan kaum pekerja!
Hentikan usaha menghancurkan Kesatuan Sekerja secara sitematik!
Hentikan Pemangsaan Ahli-ahli Kesatuan Sekerja!
Last Updated ( Tuesday, 21 February 2012 )
Baca Lagi...
APPEAL COURT ENDORSERS UNION BUSTING BOSS!
Tuesday, 21 February 2012
21 February, Putrajaya

It just took 20 minutes for three learned judges to allow an appeal by the Guppy Industries Bosses which resulted in the courts upholding an Industrial Court decision to dismiss three women unionist who tried to form a union fourteen years ago.
The judges Abdul Wahab Patail, Anantham Kasinathan and Linton Albert did not show much compassion nor empathy and gave a thumbs up judgment favoring the union busting boss of Guppy.
Today the three learned judges felt that the Industrial Court ruling against the three is correct. They felt that the High Court ruling favoring the three unionists was just a verdict to lessen the punishment which was harsh and therefore felt that the Industrial court ruling of the three being sacked as correct.
Today the court said that the three unionists were sacked for doing union work during work. This is absolutely not true and all the workers have testified against this lie. It was the employer's words against the worker's words. The Industrial court chairperson believed only the employer's side and therefore the judgment was against the workers. Today the Appeal court seems to give a similar narrow verdict on this in spite of the Company boss in the witness box saying and admitting that he was doing union busting.
PSM feels that this verdict it outrageous and disgraceful and misses the whole point of justice. On 27 April 1998, the Guppy Employer suspended the entire Protem Committee of the newly formed Guppy Union. They did not conduct any domestic inquiry but when the case was brought up to the Industrial court, the bosses said that the workers admitted. This lie is made in spite of numerous police reports and complaint letters by the Union. The Company later sacked 3 main office bearers of the Union Koyilvani (chairperson), Roshamiza (Secretary) and Kanniamah (Treasurer).
Today after fourteen years, the Appeal court gives an appalling verdict. This seems to be the faith of the workers who brave themselves to form a union. Today nationwide Union membership has dropped to less than 7 percent. Perhaps it is time; the Registrar of Trade Unions just closes its office rather that provide lip-service. The Registrar of Trade Unions has failed to protect the right of the unions and more and more laws are made to ensure Union rights are eroded.
PSM has previously called for automatic registration of trade unions as any workers who plans to form a union has to do it in secrecy without any protection. Today the court has given much leeway to union busting Bosses. They have indulged themselves not on the substance of the matter but rather on trivial issues in determining a verdict.
The workers who form the majority class in any nation will have no choice but to fight on. Whatever the odds maybe, PSM will continue to work with workers and progressive unions in this struggle. The workers have nothing to lose except their chains. They have a world to win
S.Arutchelvan
Secretary General
Last Updated ( Tuesday, 21 February 2012 )
Baca Lagi...
FORUM PERJANJIAN PERDAGANGAN BEBAS (FTA) DAN IMPLIKASI NYA KEPADA WARGA PEKERJA MALAYSIA
Tuesday, 31 January 2012
Kerajaan Malaysia kini sedang mengadakan rundingan Trans Pacific Partnership Agreement /Free Trade Agreement dengan Amerika dan juga dengan European Union .
Forum akan diadakan seperti berikut ;
Tarikh: 4hb.Februari, 2012 (Sabtu)
Masa: 8.30 pagi hingga 1 tengahari
Tempat : Dewan Perpustakaan Komuniti Petaling Jaya, Lot 389, Jalan Selangor Seksyen 3, 46050 Petaling Jaya
Melalui perjanjian perdagangan bebas ini, ianya memberikan implikasi yang besar kepada warga pekerja kerana perjanjian ini mengikat ruang perundangan Kerajaan Malaysia dari segi ;
a) Penurunan tariff cukai barangan import US, maka industri tempatan dan pekerja akan terjejas kerana saingan harga.
b) Industri tempatan tidak dapat dilindungi, kerana kemasukan bebas produk asing .
c) Kemasukan pelabur asing yang akan menuntut undang-undang buruh Malaysia dilonggarkan. JIka Kerajaan enggan, maka pihak pelabur boleh menyaman Kerajaan di tribunal Mahkamah Antarabangsa.
d) Kesan kepada sektor kesihatan, terma hakcipta ubat dilanjutkan , maka harga ubat kekal tinggi kerana ditentukan oleh syarikat pemegang paten ubat.
Forum khas ini akan meneliti kesan –kesan terhadap warga pekerja khususnya dan rakyat Malaysia.
Last Updated ( Tuesday, 31 January 2012 )
Baca Lagi...
Malaysian Cabinet Ministers declaring assets dangerous? Why?
Tuesday, 31 January 2012
Datuk Nazri mentioned in an interview last 2 weeks declaring assets by Cabinet Ministers are dangerous and can jeopardize their safety. This statement is the most ridiculous statement and clearly can be seen as a statement of people who are scared that their corruption will be exposed.
The examples set by PSM member of Parliament, ADUN and also the councilors where they have been declaring their assets in public for the past 3 years has also motivated PR states to do the same. It started with Selangor excos declaring their income followed by Penang excos this year. And guess what, the rakyat welcomes it as they want to ensure that people who hold public offices are accountable to the public and do not misuse their position to enrich themselves.
Is the demand by the people for the ministers and members holding public office to declare their assets an out of the world thing to do or is it a norm in other countries?
Is BN right in saying that the declaration of the assets will endanger ministers' or their families' life?
Let's see what other countries practice.
Countries which requires Asset / Financial Asset Declaration
In Latin America, 8 countries: Argentina, Belize, Bolivia, Brazil, Chile, Jamaica, Mexico, and Nicaragua, Paraguay requires their senior officials to make full asset declarations every year. In Mexico, over 100,000 public declarations are filed every year by senior officials and in Bahamas summaries of financial declarations are published in the Gazette. In Ecuador, declarations must either be made public or authenticated by a notary. Whereas in Belize, Brazil, Chile, El Salvador, Guatemala, Guyana, Honduras, Jamaica, Mexico, Nicaragua, Trinidad and Tobago, and Venezuela, financial declarations must include information for spouses, children, and other financial dependants. Also in Belize, Brazil, Chile, Jamaica, and Nicaragua there is public access to financial declaration information regarding spouses, children, and financial dependants.
In Canada, the financial disclosure law requires that public officials, from Ministers of Parliament to officers of the Royal Canadian Mounted Police, disclose financial assets yearly. This is important as the Canadian parliament is adopting the Conflict of Interest Code where transparency is crucial. Thus to ensure public officials do not misuse their position, the declaration of the financial assets is compulsory.
Even in the US , in response to Watergate and other public scandals and a weakening of the public's trust in government, the Congress enacted the Ethics in Government Act of 1978 ("Ethics Act"), which requires detailed financial disclosure by high-level government employees in all three branches of the federal government.
Not only that every country in continental Europe has some form of financial disclosure requirement for public officials. Latvia has one of the most comprehensive financial disclosure systems in Europe, which has arguably led to the reduction of once-rampant corruption in this post-Soviet democracy. In Romania there is a robust system of publishing public officials' asset disclosures, grounded in a constitutional right of access to information.
Moving on to the African continent , South Africa has implemented a comprehensive conflict of interest policy, and has enacted a number of conflict of interest codes requiring disclosure of financial interests by public officials.
Coming down to Australia, since 1983, the conflict of interest laws and regulations have required Members of Parliament to disclose their financial interests, including those of their spouses and dependent children. The Australian House of Representatives and Senate have published these disclosures in a registry since 1984 and 1994, respectively.
Of course, those are in different continents, but is this an Asian way? Well it is.
In India, politicians who contest elections to Parliament or a state legislature are subject to a more rigorous regime. A 2002 Supreme Court judgment requires all electoral candidates to submit on oath, details of movable and immovable assets owned by them, their spouses and three dependents, including liabilities like loans from public sector banks and unpaid bills for public utilities such as electricity, water and telephone connections. These affidavits are submitted along with the nomination papers and the Election Commission uploads them on its website in order to educate voters about the background of these candidates.
For the Filipinos, they have the right to review financial disclosures of all public officials and employees, including their spouses and unmarried minor children living in their households, pursuant to Section 8 of the Code of Conduct and Ethical Standards for Public Officials and Employees. These financial disclosures, will be "made available for inspection at reasonable hours,
Another example is South Korea. In 1989, the Constitutional Court of South Korea held that South Koreans have a constitutional right of free access to information. South Korea began requiring public disclosure of the financial interests of public officials in 1993. All high-ranking public officials, their spouses, and many of their lineal ascendants and descendants must disclose their ownership of real property, intangible property, and shares in nonpublic business entities. In addition to examination by a Public Ethics Committee, the property declarations of most of these public officials and their families are published in a public bulletin within one month of their submission.
Why go so far, our neighbour .Thailand also has a requirement for politicians and senior officials to declare their assets. All political office-holders and high-ranking public officials must make full disclosure of all assets and liabilities, including those of their spouses and minor children. This declaration is then published by the National Counter Corruption Commission in the Government Gazette.
So what is the problem?
Last Updated ( Tuesday, 31 January 2012 )
Baca Lagi...
<< Start
< Previous
1
2
3
4
5
6
7
8
9
10
Next >
End >>